RIDE WITH MORE ADVENTURE ON THE NEW GTS TOURING
Vespa GTS Touring stands out for its evocative top fairing, which offers added protection without impacting on its elegance, and its rear luggage rack that, combined with the spacious under-saddle compartment, guarantees excellent load capacity when embarking on those unforgettable holidays, alone or in two. Available in Beige Eleganza and the new Blue Avio, Vespa GTS Touring also features a refined and elegantly upholstered saddle and a dedicated plate on the back of the shield. The 300cc Quasar engine makes the Vespa GTS Touring being one of the most powerful and responsive Vespa of all time.
The "on-board" technological level increases in the lighting system, thanks to the ultimate LED technology, both on the front round headlamp and rear ends, as well as in the LED daylights. These features represent the best solution in terms of visibility, in all possible weather conditions, and a very nice stylistic choice. The front end features a redesigned shield, at the centre of which is the unmistakeable horn cover, now longer and enhanced with three decorations. The new Vespa GTS Touring offers a new saddle able to ensure greater comfort for both rider and passenger. The under-saddle compartment makes optimum use of the available space including the glove box, inside which there is a USB port, useful for the charging of external devices. An exciting mix of handling and stability, also thanks to the generous section tyres fitted on 12 inch diameter wheel rims. The double-disc braking system ensures prompt deceleration, on different road conditions during your trip, with a reserve of modularity to put even neophytes at ease.
TECHNICAL SPECIFICATIONS
1.Width
755 mm
2.Wheelbase
1.375 mm
3.Seat Height
790 mm
4.Length
1.950 mm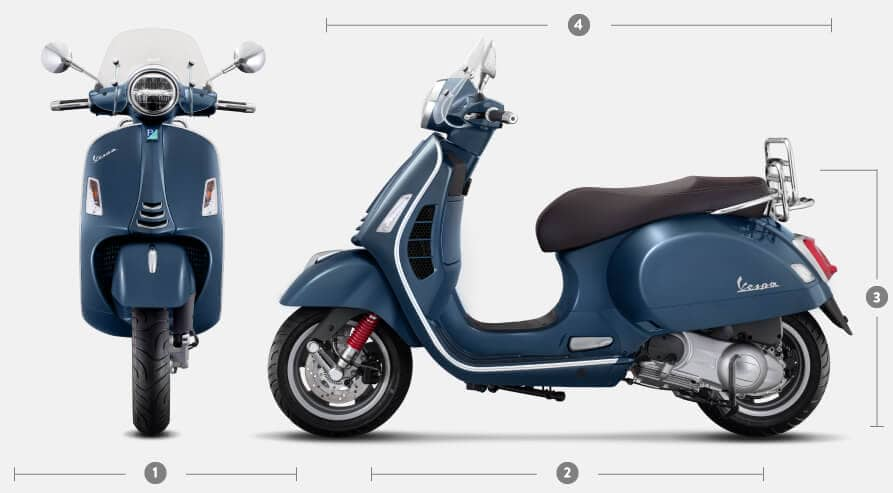 Quasar single cylinder, 4 strokes, 4 valves
Max Speed
118 km/h
Power
15.6 kW @ 7750 rrpm
Fuel tank capacity
8.5L ± 0.5L

Do you want to insure your Vespa?
Finance and Insurance specialists also with over 20 years of experience to tailor a solution just for you.
CONTACT US
Discover the Vespa GTS Catalogue.
Send us a message if you are interested in a product of the catalogue that is not listed in our website and we will find the price and the ETA for you.