MYTH, POWER AND TECHNOLOGY
Characterized by the large body made strictly in steel, perfect for moving about elegantly in the city but always ready for travel and adventure, Vespa GTS is the technical base for the new Vespa Sei Giorni that uses the most powerful engine in the history of the most famous and beloved scooter in the world. It is a modern and technological 300 Euro 4, a single cylinder, 4-stroke, 4-valve, liquid cooled, electronic injection engine capable of putting out 15.6 kW (21.2 CV) of power at 7,750 rpm and maximum torque of 22 Nm at just 5,000 rpm. These are values that ensure extremely quick response in acceleration and extremely brilliant performance all around.
TECHNICAL SPECIFICATIONS
1.Width
770 mm
2.Wheelbase
1.375 mm
3.Seat height
790 mm
4.Length
1.950 mm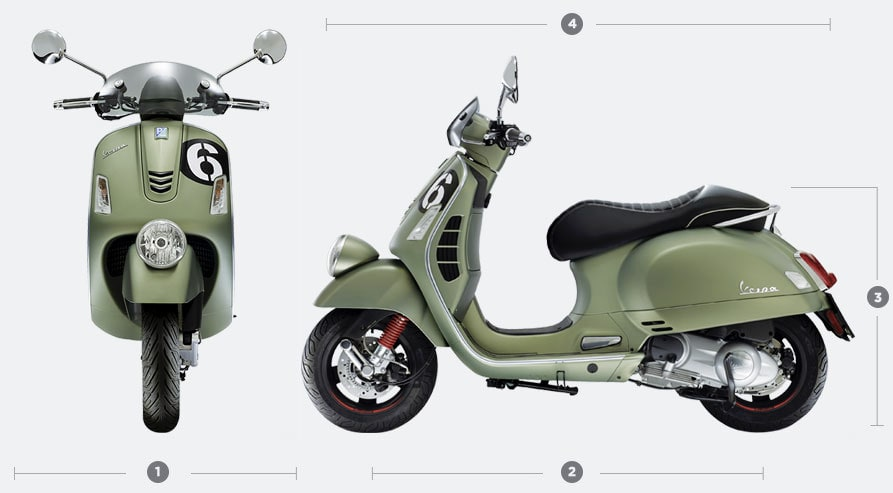 Fuel Consumption
29.4 kM/L
Fuel tank capacity
8.5L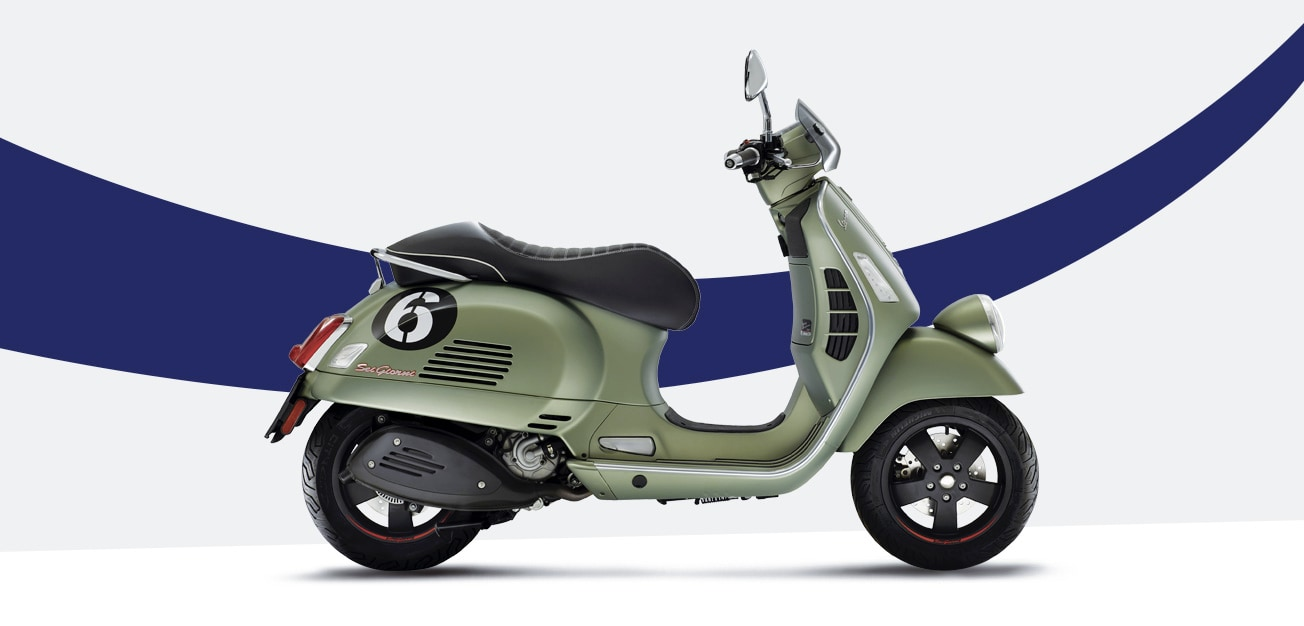 The style of the new Vespa Sei Giorni is unmistakeably reminiscent of Vespa's classic nature. Characteristic elements are the "faro basso", the low position of the headlight assembly on the front fender, as well as the handlebar like the one on the original Vespa Sei Giorni, characterized by the simplicity of the exposed metal pipe. The sporty spirit is also highlighted by the black number plate taken directly from the livery of the Vespa and it is enhanced by all black parts and by gritty red details. Lastly, on the leg shield back plate, the "Special Edition" plate bearing the serial number is a reminder of the unique nature of this special model.
Do you want to insure your Vespa?
Finance and Insurance specialists also with over 20 years of experience to tailor a solution just for you.
CONTACT US
Discover the Vespa Sei Giorni Catalogue.
Send us a message if you are interested in a product of the catalogue that is not listed in our website and we will find the price and the ETA for you.