GRIT AND PERFORMANCE
With all its design and technological content, the Vespa GTS Super 300 has revisited a "sporting classic" of the mighty Vespa collection. While being functional even in the smaller things, like the USB port in the double compartment under the leg shield back plate, it has not renounced its "racing" spirit.
The new two-tone alloy rims recall the decomposable ones of the past and highlight the sporty attitude of the 145th model in Vespa's history, thanks also to the red spring of the front suspension and the new front grill, which has given up the position light to sport a grill enriched with chromed elements.
And if on one hand the lights are now of the modern LED system type, on the other we have completely analog instrumentation, which in the finest racing tradition offers a graphically eloquent display of white numbers on a black background.
The saddle has the shapes and materials typical of sporty Italian vehicles, such as the body, the metal soul of the Vespa, has undergone some significant changes. On the right hand side, in fact, is a horizontal grill that alludes to the most beautiful Vespas of the past and gives an elegant sporty touch to the vehicle's profile.
TECHNICAL SPECIFICATIONS
1.Width
755 mm
2.Wheelbase
1.375 mm
3.Seat Height
790 mm
4.Length
1.950 mm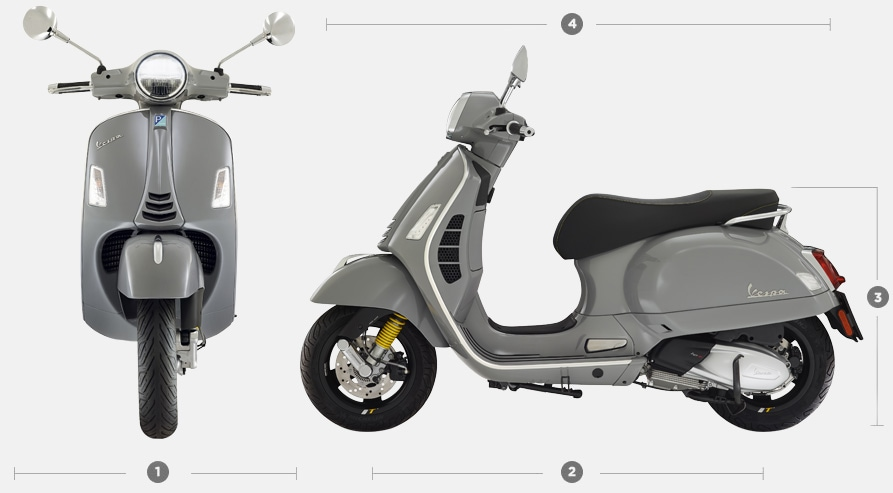 Fuel tank capacity
8.5L ± 0.5L
Power
21.2 hp ( 15.6 kW) @ 7750rpm
Fuel Consumption
76 MPG

Do you want to insure your Vespa?
Finance and Insurance specialists also with over 20 years of experience to tailor a solution just for you.
CONTACT US
Discover the Vespa GTS Catalogue.
Send us a message if you are interested in a product of the catalogue that is not listed in our website and we will find the price and the ETA for you.